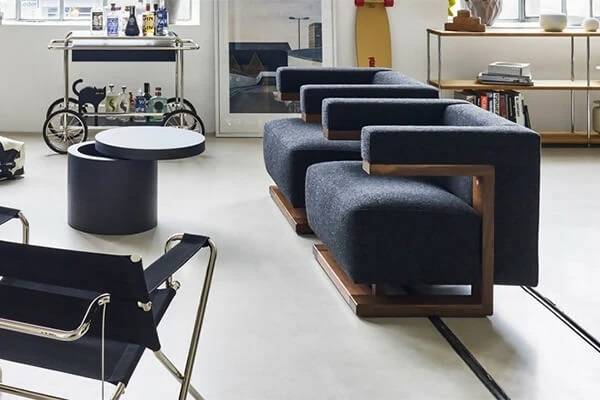 Read Time:
2 Minute, 37 Second
Le Corbusier is one of the most recognizable names in the Bauhaus movement. Partnered with Pierre Jeanneret and Charlotte Perriand, his studio was responsible for churning out some of the greatest modern furniture pieces. Their current relevance and timeless aesthetics set a precedent for modern designers, so in appreciation, here are 5 Le Corbusier Bauhaus furniture pieces to design a timeless home:
LC7 Swivel Chair
Designed in 1927 and manufactured in 1978, the LC7 Swivel chair redefined the work-life aesthetics. It was a pioneering piece of Bauhaus furniture that introduced the world to the concept of revolving armchairs. Its tubular structure is the signature Le Corbusier invention that can be found in many of his latter designs as well. It's available in 2 different versions – one that comes with 4 legs, and another that comes with 5. It's comfortable bolstering, ergonomic designing, and unique form make it a very distinctive modern furniture piece.
LC4 Chaise Lounge
No Bauhaus furniture list would ever be complete without mentioning Le Corbusier's LC4 chaise lounge. Designed to complement the shape and contours of the body while lying down, this chaise presents the most comfortable ergonomics that you'll ever encounter. Its sleek form and stylish countenance add to the overall charm of the piece. It's definitely a Bauhaus inspired masterpiece, if you'll ever see any.
LC Casiers Standard
The LC Casiers Standard may have been the very first of what we call a buffet or a sideboard today. The console style design of this piece is as minimalist as they come – a simple rectangular form with a straight-laced asymmetric arrangement of compartments resting on tall chrome plated legs. It was first designed in 1925 and features all the trappings of the best Bauhaus furniture, but did not go into production until 1978. After its great commercial success, this console was revamped and re-manufactured in 2016 and remains a success story to this day.
LC1 Chair
This sling chair is a Le Corbusier classic and is one of the most iconic Bauhaus furniture pieces that you will ever come across. It was designed in 1928 and features a polished trivalent chrome plated structure along with pony/cowskin/leather seat and arms. The super compact design was appreciated for its simple design and efficient ergonomics. There are 3 different versions of this chair and the 1928 model was first introduced to the world at the Salon d'Automne in 1929. It's a classic and makes a great accent piece in contemporary interior designs.
LC11 Table
Simplicity was a keynote element of every Bauhaus furniture and it doesn't get any more straightforward than the LC11 table. With its grey enameled steel structure and cast iron base, this table's pure, unadulterated, unembellished quality made it an instant modern masterpiece. Their natural walnut top show off the authenticity of the material palette and the overall look inspires a sleek sophistication. Designed in 1935, the table didn't go into production until 1985.
These are some of the few Bauhaus furniture pieces that Le Corbusier designed and are quite beloved even today.